Nutrition and Pregnancy
Before, During and After Pregnancy
A healthy, balanced diet is important before, during, and after pregnancy. Good nutrition during this period has significant short and long-term health benefits for both you and your baby.
Nutrition in Pregnancy Classes
Learn all about your nutrition needs during pregnancy with a Dietician.  These online classes are recommended in early pregnancy from 12 weeks up until 20 weeks gestation. Classes are free and are 45 minutes long. To book your place please email cumh.nutritionclass@hse.ie and include your FULL name, email, MRN (hospital number), and due date in the email.
Nutrition Resources:
We have a number of resources below, that address nutrition before and during pregnancy. These include nutrition when planning a pregnancy (pre-conception), healthy eating in pregnancy, food safety guidance during pregnancy, weight gain recommendations, and tips for managing common pregnancy complaints that can affect food intake.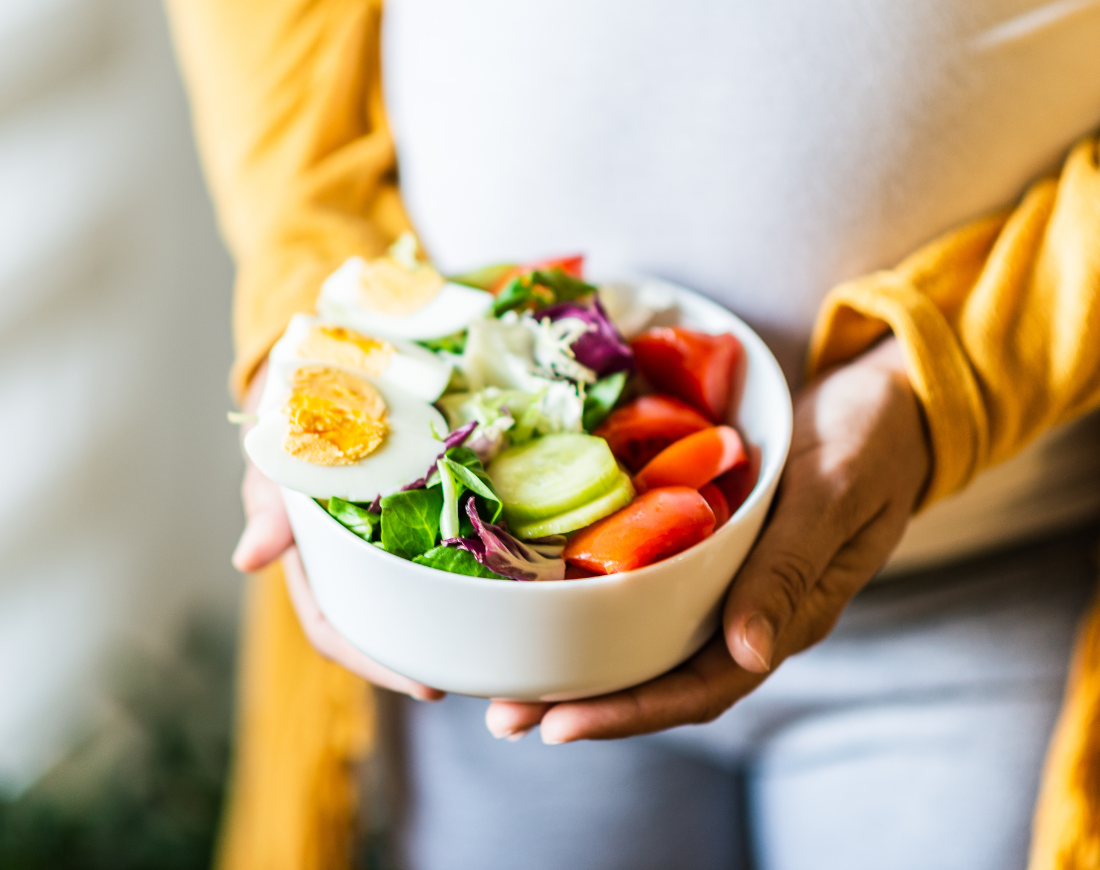 If you have particular nutritional concerns that are not addressed below please discuss these with your midwife or doctor.  You can also contact a dietician in CUMH by calling 087 794 8470. 
If you are planning to become pregnant, healthy eating and lifestyle are a vital part of preparing for pregnancy.  This is a guide to healthy eating prior to pregnancy which will play an important role in preparing your body for the nutritional demands of pregnancy. All women of childbearing age who may become pregnant should take a Folic acid supplement. Here is a link to more information on folic acid recommendations.
During pregnancy, your baby will get all their nutrients from you. Healthy food choices during pregnancy will help you to stay healthy and will help your baby to grow and develop. Here is a useful guide:  HSE 'My Child' guide to healthy eating.
There are various nutrients that need particular consideration during pregnancy such as
If you are pregnant and in your teenage years, your body is still growing and developing and therefore you need extra nutrition to support your own growth and to support the development of your baby. Here is a guide to nutrition and pregnancy in your teenage years which has been shared by our colleagues in the Rotunda Maternity Hospital.
It is normal to gain weight during your pregnancy. A healthy weight gain will help your womb, placenta, and baby to grow, however, you should avoid gaining too much weight during your pregnancy and if you are underweight you may need to gain more weight. Here is a guide to weight gain in pregnancy. Please speak to your midwife if you are concerned about appropriate weight gain throughout your pregnancy. 
Many women can experience nausea and/or vomiting in the first trimester which can impact on the amount of food they eat. This is a useful guide to help you manage your diet if you are suffering from nausea and/or vomiting in pregnancy which has been shared by our colleagues in the Rotunda Maternity Hospital.
Constipation is a common complaint during pregnancy, especially in the first and third trimesters. Diet and lifestyle can often help with relieving constipation. If you are suffering from constipation these dietary & lifestyle tips to relieve constipation may be of use.
All women are encouraged to exercise as part of a healthy lifestyle during pregnancy.  A mild to moderate level of activity is usually safe and offers many healthy benefits. Here is some further information on physical activity recommendations in pregnancy. If you have a medical condition or are concerned about safely exercising during pregnancy, please speak with your midwife.
Food safety and hygiene are very important when you are pregnant as you are more likely to suffer from food poisoning which can be difficult to treat. As well as practising food safety, there are some foods that you should avoid or limit during pregnancy. Here is a guide to food safety & hygiene in pregnancy and a detailed guide on caffeine recommendations in pregnancy.
If you are following a vegetarian or vegan diet, extra care is needed during pregnancy and breastfeeding to make sure all the nutritional needs are being met. With careful planning it is possible to achieve a balanced diet however there are various nutrients that require special attention to ensure they are sufficient in your diet. The following links give information on healthy eating when following a vegetarian or vegan diet and vegetarian/vegan diets in pregnancy.
We would like to thank our colleagues in the Rotunda Maternity Hospital and University Hospital Limerick for sharing many of the resources above.
Other websites you may find useful:
https://www.safefood.eu/Healthy-Eating/Food-Diet/Life-Stages/Pregnancy.aspx